Final West Burton power station protesters arrested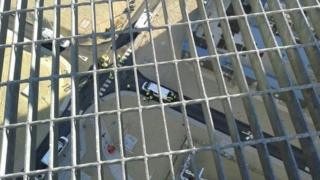 The final two protesters who were part of a group occupying two towers at a power station in Nottinghamshire, have been arrested after coming down.
Police said they arrested two women earlier and that 21 people had been arrested on suspicion of aggravated trespass since the protest began.
Officers said they were working with the power station's owners, EDF Energy, to search the site.
No Dash for Gas occupied the gas-fired facility at West Burton for a week.
Nottinghamshire Police said it had also arrested and bailed two men who climbed down on Sunday.
Ewa Jasiewicz, who was one of the last campaigners to come down, said: "I'm proud of what we've achieved, but it's only the start of the battle for our energy future."
The gas-fired power station which is on the site of a coal-fired power station was undergoing testing. It is due to become operational early next year.
No Dash for Gas said it wanted to see the government focus on renewable energy rather than building gas power stations.
The government has backed the development of up to 20 gas-fired power stations as part of its strategy for future energy supplies.
EDF Energy has said it is committed to a low-carbon future and that West Burton is the only gas-fired station it was currently developing.
A spokesman said: "Once completed, (the gas-fired facility) will provide electricity to around 1.5 million homes at a time when many of our nation's power stations will be coming to the end of their operating lives."