Chancellor hands funding challenge to businesses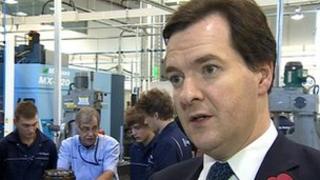 The chancellor has told East Midlands' businesses more growth cash is available - if they submit better bids.
Speaking on the Sunday Politics show, George Osborne said the region had "great firms and great people" and had huge potential.
Acknowledging the area had come bottom in the latest round of Regional Growth Fund (RGF) awards, he said firms had to work more closely with the government.
But Labour MP Chris Leslie said regional funding had been halved.
In the latest awards from the RGF, announced in October, the East Midlands secured £14m out of £571m set aside for programme bids.
Mr Osborne said he was prepared to help: "We have a pot of money and we get an independent panel - not the politicians - that looks at who bids for that money from around the country.
"I am really willing to work with East Midlands to improve the quality of the bids to make sure its gets the money and the funding they deserve - the money is there."
Mr Leslie, MP for Nottingham East, responded: "We have seen investment in regional growth halved under this government, so I can't see where this extra money is coming from.
"The East Midlands has done particularly badly under this government because it has centralised the decision making."