West Burton power station protest: Two more arrested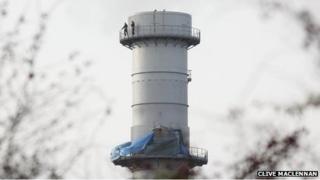 A man and woman have been arrested after climbing down two chimneys at a power station occupied by protesters.
Members of No Dash For Gas have been camping at the West Burton plant, in Nottinghamshire, since climbing up the chimneys in the early hours of Monday.
The man and woman were arrested on suspicion of aggravated trespass.
Police believe a further 14 people are still occupying the chimneys. The protesters have said they intend to stay there for about a week.
Five women from Leeds and Manchester are on police bail after they were arrested early on Monday on suspicion of aggravated trespass.
The gas-fired power station is being built next to an existing coal-fired one and is due to become fully operational by the start of next year.
The campaigners hoped to halt testing and construction and also highlight their opposition to gas-fired power stations.
Bassetlaw MP John Mann and Nottinghamshire Police have criticised the protest, highlighting the amount of public money that will be spent policing it and prosecuting the protesters.