West Burton power station on track despite protest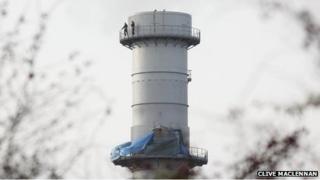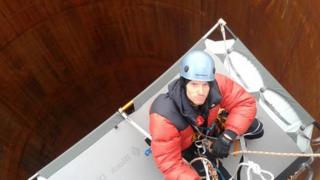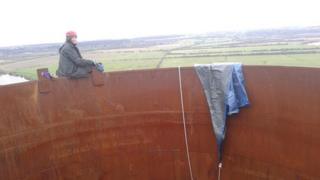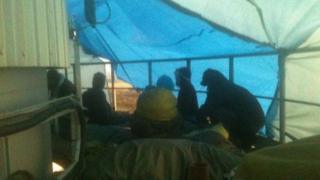 A power station occupied by climate change campaigners remains on course to be fully operational by the start of next year, owners EDF Energy said.
Members of No Dash For Gas are camping on two 300ft (90m) chimneys of the West Burton plant, partly in an effort to halt testing and construction.
But staff are back at work and owners EDF Energy said the protest had not delayed their plans.
Nottinghamshire Police has described the protest as a "drain on resources".
Bassetlaw MP John Mann said public money could have been better spent on positive environmental initiatives and said the protesters "should go home".
On Monday, the day the protest began, Assistant Chief Constable Paul Broadbent said: "I make no comment on the motivation, or cause, of those taking part in the protest.
"But I do wonder whether the tax payers of Nottinghamshire would want scarce police resources to be occupied in policing this protest."
At the time, he estimated that if staffing levels were maintained for the next week it would cost about £200,000 - excluding petrol, overtime payments, and other factors.
But No Dash For Gas said a high level of resources was not needed, as the protesters will warn police when they intend to come down.
The group has food and other supplies to last for about a week.
Spokesperson Laurie Jones said: "They are going to let the police know a couple of hours before they come down.
"It will take a couple of hours to get down. They will be arrested and taken to a police station and charged."
A coal-fire power station is already in use at West Burton, and the new gas-fired power station is being constructed to work alongside this facility.
Mr Jones said although the construction of the power station could not be halted indefinitely, the protest was stopping significant amounts of carbon dioxide being emitted every day it continued.
"The main aim was to highlight how ridiculous the new wave of investment [in gas-fired power stations] is and to prevent any more being constructed," he added.
The 16 protesters are camped on ledges on the sides of the two chimneys and have suspended tents inside one of the chimneys to stop it being used.
EDF Energy said the chimney was operational prior to the protest but was "immediately" shut down to protect the protesters.
"The site will be operational in early 2013 as planned and previously stated," a spokesperson said.
Five women from Leeds and Manchester are on police bail after they were arrested early on Monday morning on suspicion of aggravated trespass.
The remaining campaigners expect to be arrested for the same offence when they come down.
John Mann MP said it will cost even more public money to prosecute the campaigners.
"I think people are quite annoyed at the waste of money on them," he said.
"When the planning application went in I believe there were no objections, and everyone was made aware of it.
"The only objections locally have been over proposed windfarms in the locality."