West Burton climbers' pledge over protest end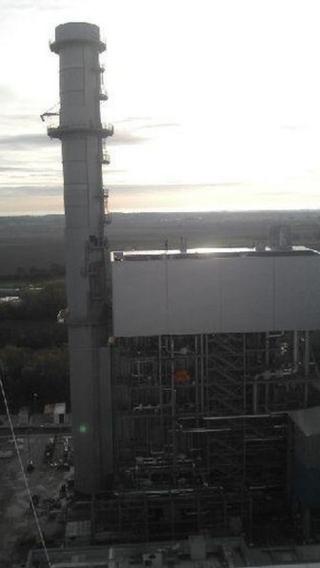 Climate change protesters occupying two 300ft (90m) chimneys at a Nottinghamshire power station have told police they will give several hours warning when they decide to come down.
The 17 campaigners entered the West Burton site early on Monday. Eleven climbed an "operational" chimney and six scaled a second under construction.
Police are trying to persuade the protesters to come down.
Five other protesters arrested on site on Monday have been released on bail.
The protest was in response to government proposals to build 20 new power stations.
West Burton has a coal-fired power station, but the campaigners are occupying a new gas-fired facility on the site, which is due to become operational following testing.
The campaigners have set up camp on top of two of the new three chimneys.
They said 11 of them are taking it in turns to use a portaledge - a hanging tent system designed for rock climbers - inside the formerly operational chimney.
The remaining six protesters are in a similar camp at the top of a second tower which had not yet been brought into use, to prevent any further construction at the site.
An EDF spokesman said the operational chimney was "immediately shut down to protect protesters who had placed themselves in potential harm", and energy supplies were not affected by the protest.
Ben Healey, a spokesman for No Dash For Gas, said: "Our shelter is adequate to live in.
"The night was comfortable, and we are more confident than ever that we will be able to sustain our protest for a week.
"It's pretty much impossible to get the guys down."
Nottinghamshire Police said policing the protest could top £200,000 by next week and were unable to confirm details of any negotiations.
The group said there was no need for such an expensive police operation, as they would give the police notice when they planned to come down.