West Burton EDF power station protesters set up camp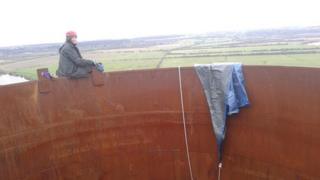 Climate change protesters have set up a camp inside the chimney of a Nottinghamshire power station and say they intend to stay there for a week.
Five women from the group No Dash For Gas were arrested on suspicion of aggravated trespass after they made their way into the West Burton site.
EDF Energy said the power station was being tested before becoming fully operational by the end of the year.
Policing the protest could top £200,000 by next week, police have said.
Ben Healey, a spokesman for No Dash For Gas, said: "They have supplies for a week and they think they can keep the power station shut.
"This is a protest against the 20 new power stations that the government are proposing building.
"This power station was targeted deliberately because it is the newest power station."
Nottinghamshire Police said the five women, all from either Manchester or Leeds, were arrested at about 01:20 GMT and are being questioned.
EDF is constructing the gas-fired power station next to its existing coal-fired plant.
Chimney shut down
One of the three chimneys was in use when the trespass began, and the plant was supplying electricity to the National Grid as part of a test phase.
The other two chimneys have not been used yet.
Mr Healey said more than 30 protesters entered the site, and nine climbed the only operational chimney.
He said the protesters would take it in turns to camp inside this chimney, with one or two being inside at any one time, while the others sheltered on a ledge at the top of the chimney.
They have constructed portaledges, which are hanging tent systems designed for rock climbers, inside the chimney.
Six protesters climbed one of the other chimneys, he added, and they intend to stay there to stop construction.
The metal chimneys are 300ft (90m) high and the protesters used harnesses to help them climb ladders fixed to the sides.
Mr Healey said the group was unaware of the whereabouts of the remaining protesters, who may have been unable to reach the chimneys.
An EDF spokesman said the operational chimney was "immediately shut down to protect protesters who had placed themselves in potential harm", but energy supplies were not affected by the protest.
A police spokesman said: "Negotiations have begun to encourage the protesters to end their demonstration."
A protester named Ewa, speaking from one of the chimneys, said: "We need a shift - we need to change to renewables.
"Drastic action does need to be taken to get this government to perform a u-turn - which is one towards renewables.
"We are peaceful protesters who know exactly where we are - we will be surrendering ourselves to police after a week's time which is when our supplies run out."
EDF spokesman Gordon Bell said: "EDF Energy is committed to a low-carbon future through new generation and increased energy efficiency.
"We support the right to peaceful protest. However, any unlawful action is of serious concern and puts at risk the safety of the individuals involved."
Steve Pryle, from the GMB union, said: "All our members have been sent home. We were told approximately 200 of our members have been sent home."