Paramedic slams EMAS ambulance station closure plans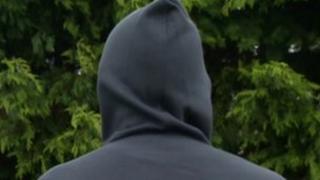 A paramedic from East Midlands Ambulance Service (EMAS) has said the idea of replacing local stations with "superhubs" will not work.
EMAS wants to close 53 ambulance stations in the region and open 13 new "hubs".
Phil Milligan, the chief executive of EMAS, said the bigger stations would help provide a better service.
But the paramedic, who does not want to be identified, said crews would take longer to respond to calls.
"If you're 30 minutes away from an incident, that's 30 minutes," said the paramedic.
"That's not going to save the patient."
Old stations
EMAS said in addition to the superhubs, there would be 131 standby and community ambulance posts across the region - Northamptonshire, Nottinghamshire, Lincolnshire, Leicestershire and Derbyshire.
Crews will wait for calls at the standby posts but they will not have rest facilities.
EMAS has held a number of public meetings to discuss the idea and says it is paying to keep empty buildings open and to bring the stations built in the 50s and 60s up to date would cost £30m.
Mr Milligan said: "Rural areas will be a challenge, even with these changes.
"We have some very long distances to travel but we will continue to do our best and continue to develop other services, so wherever you live in the East Midlands, if you need help, you'll get it."
But the paramedic, the first ambulance worker to give an interview to the BBC since the plans were outlined, said rural communities would suffer if local stations were closed.
"I believe that EMAS is only concerned about big towns such as Lincoln, Nottingham, Leicester and Scunthorpe.
"They know they can get to 90% of those jobs in eight minutes. They're happy that gets them their 75% and gets them their backing.
"But people in rural areas are just a minority to them so they're not overly concerned."
Government guidelines suggest an ambulance should be on scene to 75% of less urgent callouts within 19 minutes.
In 2011, EMAS was the slowest service in the country for responding to these less urgent calls with a response rate of 74.3% from 17,591 calls.
The consultation will run until Monday 17 December and a final decision will be made in the new year.