GameCity: Practical science lesson world record broken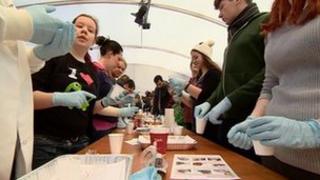 The world record for the largest practical science lesson has been broken at a video game festival.
The two experiments, which took place at GameCity in Nottingham, involved chemical reactions to make slime and pop rockets.
The current record of 276 participants was broken on Saturday afternoon when 292 took part in the mass experiment.
Guinness World Records adjudicator Fortuna Burke was present at the event and verified the record.
"[We were] keeping count of people going in and made sure everyone was fully participating to break the record," said Ms Burke.
Zombie record
Natasha Neale said two experiments took place during the half-hour record attempt.
"The slime is a cross-polymerisation reaction and the pop rockets are about pressure and gas production.
"This is science in the classroom but in a more exciting way than perhaps people are used to," she said.
The record-breaking attempt was organised by Nottingham Trent University's schools, colleges and community outreach team and was supported by Nottingham Science City.
GameCity set a record in 2009 as part of GameCitySquared when 1,227 zombies shuffled in time to Jonathan Coulton's Re; Your Brains.