Alan Sillitoe app aims to raise memorial funds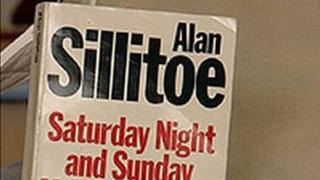 A celebration of the work of a renowned Nottingham author has taken place to help raise funds towards his memorial.
The Alan Sillitoe Committee said it had introduced a mobile phone app at the event to lead a "literary walk" through one of the writer's most famous books.
It said the Sillitoe Trail app, commissioned by the BBC and the Arts Council, covered five key locations in Saturday Night and Sunday Morning.
A series of talks and films took place at the Nottingham Contemporary.
'Sillitoe's Nottingham'
The city council said it was a special year, as it is the 125th anniversary of Raleigh, the workplace of Sillitoe's anti-hero Arthur Seaton.
The event was hosted by Alan's son David Sillitoe, as well as James Walker and Paul Fillingham who developed the Sillitoe Trail app. TV and film writers Billy Ivory and Michael Eaton attended.
The committee said the mobile trail would feature the work of leading contemporary writers revisiting the themes and spaces of Sillitoe's Nottingham.
Sillitoe died aged 82 in 2010.
Born in Nottingham in 1928, he wrote largely about his working class background.
Saturday Night and Sunday Morning, one of his most famous works, is set in Nottingham among the terraced houses of Radford and the former Raleigh factory.