Boy injured in Nottingham Primark escalator fall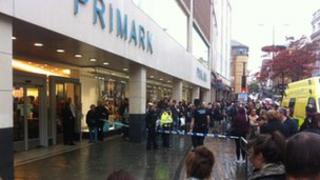 A boy has been injured after falling down an escalator in a shop in Nottingham, the ambulance service said.
Nottinghamshire Police said the boy had been taken to Queen's Medical Centre to establish what injuries he had sustained.
Primark and the surrounding area was cordoned off to shoppers and pedestrians while paramedics attended the scene.
Officers added council health and safety officers had been informed.
A spokesman for Primark said: "The safety of our customers in our stores is of paramount concern to us. We are now working with the relevant authorities to investigate."
A City Council spokesman said its health and safey officers were investigating the circumstances and were unable to comment further at this stage.