Nurse admits giving baby fatal saline dose at QMC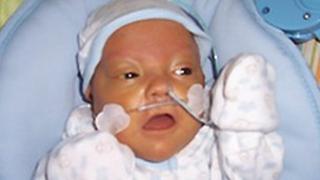 A nurse has admitting giving a four-month-old baby, who later died, 10 times the prescribed dose of saline solution at a Nottingham hospital.
Samuel McIntosh, who was born prematurely on 1 March 2009, was being cared for at the high-dependency unit of the Queen's Medical Centre (QMC).
The Nursing and Midwifery Council must now decide whether nurse Louisa Swinburn is guilty of misconduct.
Ms Swinburn has not appeared at the tribunal being held in London.
At an inquest into Samuel's death in November 2010, Nottinghamshire Coroner Dr Nigel Chapman recorded a narrative verdict after saying that Samuel died following a "drug error".
Dr Chapman said there was no doubt that a dreadful mistake had taken place, but ruled that it did not fall into the category of a gross failure.
Swelling to brain
Nottingham Coroner's Court was told two nurses became distracted and gave Samuel McIntosh 50ml of sodium chloride solution, instead of 5ml, in July 2009.
He suffered swelling to the brain after the error at the QMC and later died.
Samuel, whose parents are from Mansfield, was born at Nottingham's City Hospital. He weighed 580g (1lb 5oz) at birth - a sixth of the normal weight for a full-term baby.
He suffered from lung problems and had breathing difficulties and was transferred to the QMC aged 18 days.
Samuel's weight eventually rose to 2.8kg (6lbs 3oz) and he was expected to survive.
Ms Swinburn has also admitted posting a photo of herself and Samuel on social networking site Facebook in June 2009, without the consent of the baby's parents.
She denies charges that on the nightshift of 22 to 23 June 2009, she fell asleep while on duty.
The panel will now consider whether her alleged behaviour amounted to misconduct and if her fitness to practise was impaired.
The hearing continues.