Greg Bear's fatal blood poisoning missed by medics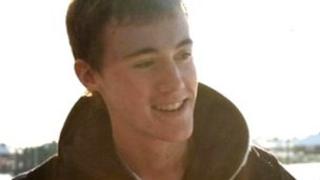 The death of a Nottinghamshire teenager sent "shockwaves" through the medical community, a coroner has said.
Greg Bear, 17, of Sutton-in-Ashfield, died in December 2010, after six days of problems and despite calls to GPs and a visit from a paramedic.
Nottingham Coroner's Court heard none of the medics involved were trained to spot Greg's blood poisoning.
A narrative verdict noted that NHS managers had since issued guidelines to highlight the issue.
The inquest heard Greg's mother, Liz, first rang a GP on 16 December after he developed a temperature and headaches.
'Impact and legacy'
This call, then an examination by a paramedic on 19 December, a visit to a GP on 20 December and further call to a GP on 21 December, all failed to diagnose septicaemia caused by bronchopneumonia and flu.
Greg died on 22 December in King's Mill Hospital.
Nottinghamshire deputy coroner Heidi Connor said the case had sent "massive shockwaves" through the medical community.
She added: "There is a desire to learn lessons from the tragedy and those lessons will save lives.
"It's too late for him but this is the impact and legacy of Greg's death."
Next month, along with their pay slips, staff at East Midlands Ambulance Service will get advice on screening for blood poisoning.
And NHS Notts County Teaching Primary Care Trust said it had developed extra training for GPs.