Caroline Coyne murder: Accused admits speaking to victim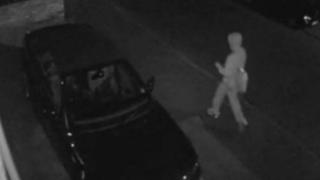 A man accused of beating a woman to death in a Nottingham street has admitted speaking to her shortly before she died.
Carl Powell told jurors he saw Caroline Coyne staggering out into Porchester Road trying to flag down traffic.
He told Nottingham Crown Court the 28-year-old mother asked him for a "spliff" of cannabis, then walked away when he said he only had a cigarette.
Mr Powell, 24, denied "stalking" Miss Coyne and murdering her.
Prosecutors allege he followed Miss Coyne up Thorneywood Mount, where she was found dead with head injuries at about 08:45 BST on 23 July last year.
CCTV footage placed him on the street but he told the court he had followed the noise of a car screeching and sounding a horn.
"I didn't follow her, I followed the noise," he said.
"I was being nosy."
Mr Powell was asked if he had been "stalking" a "distressed" and "frightened" Miss Coyne before killing her, but he said "no".
Miss Coyne, a mother-of-two from Top Valley, was walking in the street alone after going to a family party.
The trial has already heard that she flagged down a police car to ask for a lift at about 00:30 BST.
Jurors heard that the two special constables refused her request, telling her "We're not a taxi".
As well as the murder charge, Mr Powell, of no fixed abode, denies an unrelated charge of sexual assault from August 2011.
The trial continues.