Spring Lane Residential Home closed after 'residents bruised'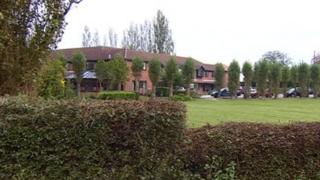 A Nottinghamshire care home being investigated by police over the death of an 87-year-old woman is being closed down.
The company which runs Spring Lane Residential Home, in Lambley, has had its registration cancelled.
The Care Quality Commission (CQC) acted after an inspection found people at risk, and information was received that eight residents had suffered bruising.
Nottinghamshire County Council is finding new homes for the 36 residents.
Andrea Gordon, deputy director of operations for the CQC's central region, said: "The failings we witnessed at Spring Lane Residential Home were completely unacceptable.
"CQC took swift action to protect the safety and wellbeing of people by moving to urgently cancel this home's registration, meaning it could no longer operate.
"Taking action leading to the closure of any service is not something that we take lightly, but when we find very poor practice, as we did in this case, we have no choice but to take action to protect the safety and welfare of people."
The BBC contacted the home on Thursday but no-one was available for comment.
The 87-year-old woman died on 10 August at the home, which specialises in caring for people with dementia.
Police said their investigation was on behalf of the coroner, and would cover the circumstances surrounding her death and the level of care she received at the home.
The CQC carried out an unannounced inspection on Friday, following "information that had come to light about the service".
Inspectors were not satisfied care standards were being met and found people were at risk of receiving unsafe and inappropriate care.
The CQC's concerns included a lack of staff, management and supervision.
After the inspection, further information was received that eight residents had sustained bruising.
Police investigated this but were satisfied it was not a criminal matter. Police referred it to the county council, which has launched its own investigation.
The CQC, which regulates health and social care in England, made an application at Nottingham Magistrates' Court on Tuesday for Spring Lane Nursing Home (Lambley) Ltd to lose its registration.
This means the company can no longer legally operate a care home at the premises, but it has 28 days to challenge to decision.
The county council said it supported the deregistration of the home and is assisting residents and their families to find new care home places.