Sherwood Forest NHS Trust: Chairman's credibility questioned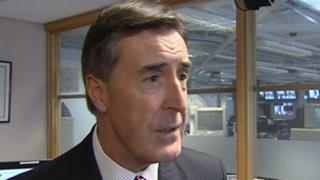 A union has questioned the credibility of the man brought in to tackle financial difficulties at a Nottinghamshire hospital trust.
Chris Mellor, who has been appointed interim chairman of Sherwood Forest NHS Trust, was sacked from Northern Ireland Water in 2011.
Unison said that his appointment did not "engender hope" at a critical time.
Independent regulator Monitor said it had publicly stated its confidence in him last year.
Mr Mellor was sacked by Northern Ireland Water along with three other board members after an independent report found there was a serious breakdown in governance - and doubts over more than 20 contracts worth about £8m.
Northern Ireland regional development minister Conor Murphy warned the company might have been open to legal action over how contracts were awarded.
Mr Mellor has also worked as a non-executive director at Monitor.
On Monday, he was appointed interim chairman at Sherwood Forest NHS Trust after former boss Tracy Doucét stepped down.
PFI payments
East Midlands regional organiser for Unison, Coral Jenkins, said: "We're hoping that [he will] meet with the unions and the staff and put on the table his plan of action, how he intends to improve the services.
"Jobs are at risk at the moment. There's a high level of anxiety and uncertainty. We would just like to meet him and ask him some questions about his history."
Monitor announced in September it was intervening in the running of the hospital trust over concerns about its finances.
It said the trust was struggling to meet its private finance initiative (PFI) payments on a £320m PFI expansion at King's Mill Hospital in Sutton-in-Ashfield.
One of its concerns was the capability of the trust's board to improve the situation, it said.
Breast cancer treatment at King's Mill is also set to be reviewed after problems with tissue tests on 120 women, which meant some did not receive the most appropriate care.
A spokesperson for Monitor said: "Chris Mellor is experienced in change management and leadership development and served on Monitor's board for eight years as deputy chair.
"During this time he was chairman of Northern Ireland Water for four years and acted as chief executive for a 14-month period.
"The Department of Health and Monitor publicly stated in 2011 that we had confidence in him to perform his role as Monitor's deputy chair following his departure from Northern Ireland Water in 2010.
"On 10 May 2011 the then Health Secretary Andrew Lansley confirmed the reappointment of Chris Mellor for another year as a non-executive director of Monitor, until 31 March 2012."