Disruption expected as £10.8m Newark sewage work begins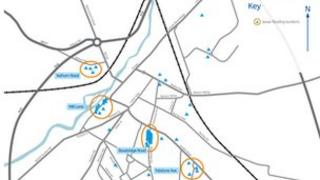 Severn Trent Water says it expects "some disruption" as a £10.8m sewage works upgrade project gets under way in Newark in Nottinghamshire.
It said it wanted to speak to those who were likely to be affected by plans to lay 7,000 metres of new drains from 2013.
Severn Trent said its upgrade plans were necessary and aimed to remove 80 homes from the flood risk register.
Main construction work is expected to last for four years starting next year.
Severn Trent said its early investigations into the current Newark sewer pipe network were under way and would help develop the plans.
Mike Fairlamb, of Severn Trent, said there was bound to be some disruption as some sewage pipes being put in measured up to two metres in diameter.
He said: "We want to work with the local community, work with the highways authority, work with everyone who might be affected by our works."
Contractor NMC Nomenca said it would be using tunnelling methods where possible to reduce the need for extensive road closures in busy areas.