Sherwood Forest board should quit over cancer errors - MP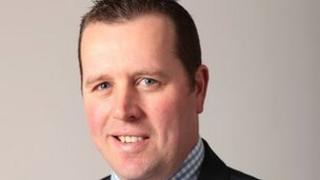 A Nottinghamshire MP has called for the board of a hospital trust to stand down after clinical errors in dozens of breast cancer tests.
Sherwood Conservative MP Mark Spencer also wants an independent inquiry at Sherwood Forest Hospitals Trust.
Health watchdog Monitor has set up an inquiry into breast cancer after faulty tests between 2004-2010.
Interim trust chief executive Mark Goldman said a full review would take place.
He said additional tests had been offered to 79 women who may have been affected by the errors.
Financial worries
Mr Spencer wants an inquiry in addition to that ordered by Monitor, which is being conducted by the Care Quality Commission.
Mr Spencer said: "It is both shocking and disappointing that the local NHS trust board has not been capable of providing the care that these women need during their battles with cancer.
"The board have already shown that they are unable to manage their finances and the resignation of the trust chairman was entirely appropriate.
"The additional revelations regarding the board's failure to deliver the level of clinical care expected is another damning blow and in my view they all now need to resign."
Mr Goldman said: "There were some failures on our part five or six years ago but there are no problems within the system that we are aware of now."
Interim board chairman Chris Mellor, who was appointed on Monday following the resignation of Tracy Doucet as trust chairman last Thursday, said he would "take swift action" to improve the trust's performance.
"I am already aware of several issues at the trust and working with our regulators, Monitor and the Care Quality Commission, I will shortly be carrying out a number of reviews to ensure we identify all the key issues that need to be dealt with," he said.
The women who underwent breast tissue biopsies between 2004 and 2010 were given the wrong information on what type of breast cancer they had.
They were wrongly told they had oestrogen-receptor negative breast cancer, when they were actually oestrogen-receptor positive.
It is thought an error in preparing the slides containing breast cancer tissue was to blame.
'Appalled and angry'
Joyce Bennett, a member of Newark Breast Cancer Support Group, said: "I am appalled, I am angry and I am upset - those women must be devastated.
"To get a negative result and find out you are positive, I can't imagine the worry they are going through.
"If they were told that their cancer was not oestrogen receptive they would not have been given the hormonal drugs they needed which means they would be at greater risk of the cancer spreading.
"The tests determine what sort of treatment you need and that is why it is vital that you get the right result."
Mr Goldman added: "We are extremely sorry this has happened and we will apologise to each and every one who is affected."
Sherwood Forest Trust, which was awarded Foundation Trust status in 2007, serves a population of 418,000 people across Nottinghamshire as well as parts of Derbyshire and Lincolnshire.
Monitor has already raised concerns over the financial viability of the trust because of the rising costs of a private finance initiative to rebuild King's Mill Hospital.
The trust runs King's Mill Hospital in Sutton-in-Ashfield, and Newark Hospital.