King's Mill Hospital admits breast cancer test errors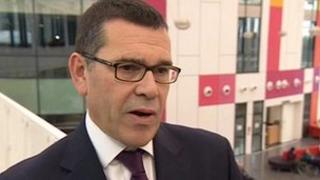 Breast cancer treatment at a hospital in Nottinghamshire is to be reviewed after problems with tests on 120 women.
Hospital watchdog Monitor found concerns over "faulty tissues tests" from patients at King's Mill Hospital in Sutton-in-Ashfield.
Managers admitted this meant about half the patients would not have received the most appropriate care.
Seventy-nine women are being recalled with regard to the results of breast tissue biopsies between 2004 and 2010.
Twenty-seven women have been seen by specialists since Friday.
'Increased mortality'
The Care Quality Commission (CQC) will also review wider patient care at Sherwood Forest Hospitals NHS Foundation Trust, which runs the hospital.
Hospital officials have said the fault is due to a technical issue and not medical error.
All the affected women had already been diagnosed with breast cancer, but there were problems with further tests to see what treatment would be most effective.
A number of women involved in the testing errors between 2004 and 2010 have since died of cancer but it is unclear whether any of these deaths were as a direct result of the problems.
Trust medical director Dr Nabeel Ali said: "About half the women affected would have been offered different treatment had we known the correct result.
"Those women would have experienced a 5% increased mortality rate over 10 years from their breast cancer."
Monitor has already raised concerns over the financial viability of the trust because of the rising costs of a private finance initiative to rebuild King's Mill Hospital.
It stepped in and appointed Chris Mellor as interim chairman following the resignation of Tracey Doucét as trust chairman on Thursday.
A Monitor spokesman said the inspection team would include experts in breast screening, pathology and clinical governance.
The CQC has also agreed to carry out a review to determine if there are any concerns about standards of patient care elsewhere at the trust.
'Extremely sorry'
Stephen Hay, the Monitor spokesman, said: "We are using our formal regulatory powers of intervention because we are concerned the trust has failed to get to grips with the scale of the problems it faces.
"In addition to the trust's financial difficulties, our concern about its leadership has been heightened by the disclosure that some breast cancer patients are to receive an apology from the trust and an urgent review of their treatment after an investigation into faulty pathology test results."
He said the watchdog had stepped in because the trust's financial performance had "rapidly deteriorated" after it made a £5.9m loss in the first quarter of 2012 and "failed to deliver recurrent savings of £10m" in the past year.
CQC chief executive David Behan said: "This urgent inspection will allow us to take an in-depth look at the quality and safety of the trust's services that relate to breast cancer screening, pathology and clinical governance."
Interim chief executive Dr Mark Goldman said: "We are extremely sorry this has happened and we will apologise to each and every one who is affected.
"And I am sorry not only to them but also to every other patient who is unnerved by what has happened here.
"I am very confident in the clinical team who are looking after women here both now and in the future."
Sherwood Forest Trust, which was awarded Foundation Trust status in 2007, serves a population of 418,000 people across Nottinghamshire as well as parts of Derbyshire and Lincolnshire.
The trust runs King's Mill Hospital in Sutton-in-Ashfield, and Newark Hospital.