Toton residents to fight 800 house development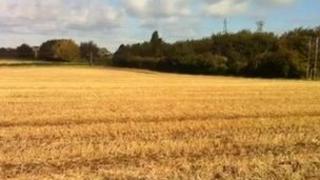 People living near a Nottinghamshire field where around 800 homes could be built have said they will fight the development.
The plans, which also includes shops, a school and a hotel, have been submitted to Broxtowe Borough Council for a site near the A52 in Toton.
Campaigners said the proposals would result in congestion and harm wildlife.
A Peveril Homes spokesperson said residents would benefit from new jobs and homes.
The company said the submitted plans are the result of an extensive public consultation which led them to alter their original proposals.
Jobs and homes
But campaigner Christine Batham, who lives near the 103 acre field, said: "It's beautiful. I love it here and I'm devastated about the idea that we could lose it."
Another Toton resident, Peter Roche said: "It could be like a concrete jungle and we would have nothing and it would never come back again. We are desperate to keep it."
Anna Soubry, Conservative MP for Broxtowe, said: "There are brownfield sites in the rest of the borough which would satisfy 3,000 new houses but if you build on greenbelt at Toton, it's gone forever."
James Smith, development director for Peveril Homes, said: "The plans we have submitted are highly deliverable and as a result of our consultation we are confident that future and current residents will benefit from the new jobs and homes."
Broxtowe Borough Council said it could not comment on a live planning application.
However, Councillor Steve Barber, chair of planning at the authority, said last year the council removed the site from the allocation for new housing.