New Cornerstone Church in Nottingham opens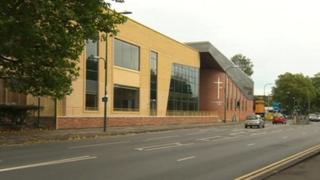 A Nottingham church with a growing congregation is having its first full day of services after opening on a new site.
The Cornerstone Church has been designed to hold congregations of up to 750 people.
The new £6m building has been described as "unconventional" but "welcoming" by some members of the congregation.
It was built on the site of a furniture showroom in Castle Boulevard and has a modern design with large windows.
Senior pastor Peter Lewis said: "The whole thing is light and colourful - not what many people associate with church."
It attracts a younger congregation than many churches. About 600 people attend on a Sunday at peak times, which is during student terms.
This is expected to grow now the church is in a more central location.
The building was funded mainly through people who used the church when it was based at the Bluecoat Academy in Wollaton, Nottingham.
Mr Lewis said: "We've so far raised £4m out of the £6m we needed and that has mainly come from within the church.
"We don't have rich businessmen, we have struggling young professionals, lots of those, and the stories of how people were able to give is just deeply moving.
"There was one man who comes in a wheelchair, he's got cerebral palsy, and he has given half his life savings."
As well as the foyer and main auditorium, there are 40 toilets, a large kitchen, activity hall, staff office, three smaller activity rooms, lounge, creche, coffee bar and dining area.