Caroline Coyne murder: Specials defend refusing lift home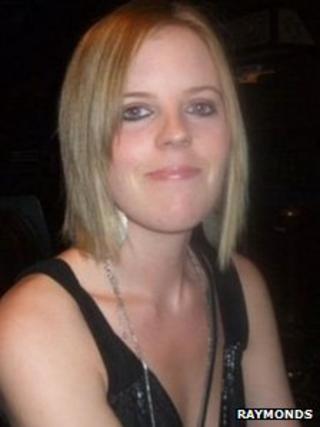 Two special constables who refused to give a woman, who was later killed, a lift home have told a court she did not appear "severely intoxicated".
Carl Powell denies murdering Caroline Coyne, 28, who was found dead in a Nottingham street in July 2011.
Jurors heard the mother-of-two stopped a police car to ask for a lift while walking home alone from a family party.
Officer Allen Purnell told Nottingham Crown Court he would have given a lift if she had appeared "too intoxicated".
Mr Purnell and fellow special constable Paul Traynor told Ms Coyne "we're not a taxi", jurors heard.
Her body was found hours later, at 08:45 BST on 23 July last year in Thorneywood Mount, St Ann's. She had died from head injuries.
As well as the murder charge, Mr Powell, 24, of no fixed abode, denies an unrelated charge of sexual assault from August 2011.
'Jokey way'
The officers told the court their car had been flagged down by Ms Coyne, from Top Valley, as they drove through Mapperley at about 00:30.
Mr Purnell said they could smell she had been drinking but had concluded she was not so drunk she needed a lift.
Mr Traynor said he had told her "we're not a taxi" in a "jokey way".
After a few minutes, she got out of the car and they lost sight of her walking up the road, the jury heard.
Mr Purnell told the court if Ms Coyne had shown signs of distress, had been too intoxicated or injured he would have given her a lift home.
Defence barrister Shaun Smith asked both officers if they had treated it all as a joke or an inconvenience, but the men denied it.
He said: "A woman asked for a lift and was later found dead. I don't suppose that's a good feeling?"
Mr Purnell replied: "No".
Mr Smith said: "At the least it's very embarrassing?"
Mr Purnell responded: "I don't know if that's the correct word. It's upsetting."
The trial continues.