Dambusters composer Eric Coates: Lost songs performed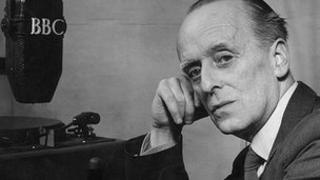 Three pieces of newly-discovered music written by the composer of the Dambusters film theme have been performed for the first time.
The songs were written when Eric Coates was 20, but only came to light when they were donated to the Eric Coates Society by a Devon woman.
They were sung at the Hucknall Central Methodist Church in Nottinghamshire on Saturday.
Coates also composed the theme tune for BBC's Desert Island Discs.
The chairman of the Eric Coates Society, Geoff Sheldon, said: "They were written in 1906 at a time when Eric was embarking on his journey to the Royal College of Music.
"He was quite prolific in the amount of writing he was doing at the time."
The handwritten pieces were donated to the society by a woman whose mother had acquired them with other sheet music.
Coates, who was born in 1886, also composed Halcyon Days, which was used as the theme to the 1967 BBC TV series The Forsyte Saga.
The three songs - Love's Philosophy, To A Maiden and Tit For Tat - were sung by soprano Laura Roberts of Cantamus Choir.