Colin Gunn complains about Belmarsh prison postage costs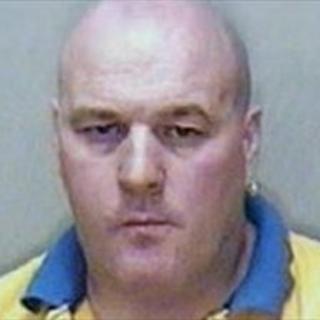 A charity supporting families bereaved by homicide is "staggered" that a crime boss has complained about the cost of posting letters from prison.
Colin Gunn was jailed for life for conspiring to murder Nottingham couple John and Joan Stirland in Lincolnshire.
He has written to Inside Time magazine claiming prisoners have been overcharged for sending large letters.
Gunn, from Bestwood in Nottingham, is currently at top-security HMP Belmarsh, in London.
Nottinghamshire Police and the Prison Service have previously said Gunn still has influence over people outside prison.
Rose Dixon, chief executive of Support After Murder and Manslaughter, said: "I am absolutely staggered at his audacity.
"What about the people that were murdered? There is no way they can send a letter.
"They are not in a position to complain about 50p or whatever."
Mr and Mrs Stirland were shot dead at their home in Trusthorpe, Lincolnshire, in August 2004 in a revenge killing after Mrs Stirland's son killed an associate of the Gunn family.
They had fled Nottingham the year before, after shots were fired at their home.
After being jailed over their deaths Gunn was also convicted of corrupting police, after he used go-betweens to receive confidential information from officers.
Gunn was moved to Belmarsh in 2010 because of information suggesting he had a "daring and viable" plan to escape from his previous prison.
Letter on website
This included intelligence suggesting Gunn was still able to communicate with and control his organised crime network from prison.
In 2009 a website - www.colingunn.net - posted a handwritten letter from Gunn in which he criticised press coverage about himself and said he wanted to "restore some positive thoughts".
In the letter to Inside Time, printed in the October issue, Gunn encouraged fellow prisoners at Belmarsh to complain if they have been overcharged by post room staff.
He wrote: "When I raised this I was told I was wrong and an A4 letter is a packet! Unbelievable!
"They now concede I was in fact correct but what is worrying is how long this practice has been going on, Belmarsh were oblivious to any wrong-doing."
A Prison Service spokesperson would not say if prisoners had been overcharged for postage or not.
"No other prisoner at HMP Belmarsh has complained about postage rates," said the spokesperson.
"However, the prison is monitoring the situation to ensure that prisoners are paying the correct postage."