Hilda Owen murder: 71-year-old 'killed for her cash'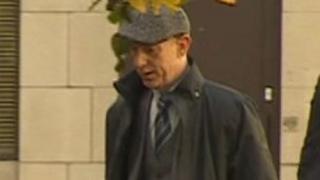 The trial of a man accused of murdering his 71-year-old neighbour has been told he killed her so he could inherit her house and money.
Hilda Owen died after being attacked with a claw-hammer at her home in Skegby, Nottinghamshire, in March 2007.
The jury at Nottingham Crown Court was told that defendant Peter Smith, 48, was "mortgaged to the hilt" and had debts of £35,000.
The court also heard that the case against Mr Smith was a retrial.
Burglary claim
Mrs Owen, a house-bound widow, died after being hit 48 times with a claw-hammer and screwdriver. She was also strangled.
The prosecution said that prior to the killing, she had been befriended by her civil servant neighbour, Mr Smith.
He helped her apply for grants and dishonestly claimed a £240 weekly allowance by claiming to be her carer.
Two days before her death, Mr Smith created a will in her name with himself as the sole beneficiary, the court heard.
After the murder, he claimed to have found the body when calling around to offer help and told police he thought there had been a burglary.
The trial continues.