Caroline Coyne murder trial: Woman, 21, 'sexually assaulted'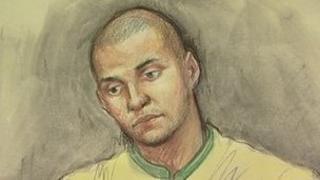 A 21-year-old woman has told a court she was sexually assaulted by the man accused of killing a Nottingham mother.
The body of Caroline Coyne, 28, from Top Valley, was discovered on a path in Thorneywood Mount on 23 July 2011.
The woman told Nottingham Crown Court she was grabbed by the neck and dragged into a college's grounds a month after Ms Coyne was killed.
Carl Powell, 24, of no fixed abode, denies murder, and sexually assaulting the 21-year-old in August 2011.
The court heard that during a police interview the woman described how she had been walking home alone in Nottingham, at about 04:00 BST, after a night out.
She said she was grabbed around the neck and dragged into the grounds of People's College in Carlton Road.
The court heard that she was terrified and crying but managed to keep her attacker talking in the hope that he would let her go. She said he then apologised.
They ended up walking together further up Carlton Road before the man kissed her three times and then sexually assaulted her. The defence denied this happened.
Police refuse lift
On Wednesday, Nottingham Crown Court heard mother-of-two Ms Coyne was allegedly stalked and murdered after leaving a family party in Daybrook.
Ms Coyne, who had been drinking heavily, flagged down a marked police car and her speech was slurred as she spoke to the special constables, the court heard.
She asked for a lift home but the two special constables told Ms Coyne they were not a taxi service, the jury was told.
They made a check on the police national computer and when she walked away she was "swaying", the court heard.
She was also captured on CCTV trying to flag down a bus, and later got into a taxi and got out without paying.
The prosecution told the jury Ms Coyne was being followed by Mr Powell and CCTV evidence placed him near to where her body was found.
Ms Coyne had suffered severe head injuries and a lump of concrete was found nearby. She had finger marks on the left side of her neck.
The court heard she had left the party in Daybrook, ended up in the Mapperley area, and was seen by several people in the early hours.
The trial continues.