Ancient remains found during A453 survey in Nottinghamshire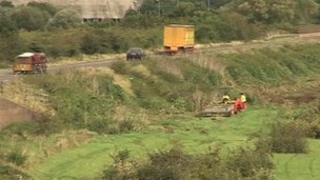 Human remains that could date back to the 1st Century have been found during an archaeological survey along the A453 in Nottinghamshire.
The Highways Agency said the bones were found in two locations.
Archaeologists working on the preparation work for a £164m dual carriageway project found the remains.
The bones are "believed to date back to the 1st Century (late Iron Age) and have been taken away for specialist investigation", the spokeswoman said.
"We can confirm that during our pre-construction archaeological surveys we have found human remains at two sites."
The bones will be either stored in a museum or reburied according to their faith - which will be determined, if possible, by the specialists.
The work to widen the 11-mile (17.7km) road between the M1 in Leicestershire and Nottingham is due to start by 2015.
The exact location of the remains was not revealed.