Man jailed over 'supercop' Diederik Coetzee hit-and-run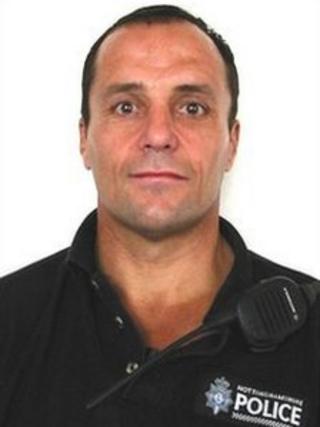 A man has been jailed for 15 months for a hit-and-run which left a "supercop" with serious injuries.
PC Diederik Coetzee, 55, was cycling to the gym in Blidworth, near Mansfield, while off-duty in November 2011 when he was hit by a car which failed to stop.
Before the incident, PC Coetzee was dubbed "supercop" by newspapers for his high arrest rate.
Mitchel Graham, 26, was sentenced at Nottingham Crown Court after previously pleading guilty to dangerous driving.
Graham also admitted failing to stop at the scene of an accident and failing to report an accident after hitting the Nottinghamshire officer.
Sentencing Graham, of Blidworth, Judge Jonathan Teare said: "You ploughed into him, throwing him into your windscreen and propelling him no less than 24m.
"You stopped for a moment then drove off knowing you had hit a cyclist, caring not when you left him there whether he would live or die."
PC Coetzee was found in the middle of Blidworth Lane, having suffered serious head injuries in the collision.
He had lights on his bike and was wearing a high visibility jacket and a helmet.
The court heard PC Coetzee is now in a wheelchair and has problems with mobility.
He spent six months in hospital and continues to receive rehabilitation treatment.
The court was also told the nearside headlight and windscreen wipers of the car Graham was driving were not working.
Defects were also spotted with the drive shaft, exhaust and brakes.
'Driving blind'
Paul Stimson, prosecuting, said Graham had a significantly limited view and told police he could only see to the end of the bonnet on the night of the accident.
It had also been raining and driving conditions were damp.
Judge Teare said he accepted Graham was not driving erratically or at a high speed, but the driver knew the car was in a dangerous condition.
"It was dark and your visibility to your nearside was next to nil, you were effectively almost driving blind that night.
"You saw him at the last instance and could take no avoiding action, he suffered the most horrific injuries which have left him disabled for life."
Grace Hale, defending Graham, said he left the scene because he panicked, fearing he had killed the cyclist.
She said he has apologised to the family for his actions.
In a statement, PC Coetzee's family said their lives had taken a "dramatic turn" since the incident.
"The collision has undoubtedly changed his life and our lives forever.
"Not only do we value and appreciate the selflessness of our loving father and husband, but so do the wider community in Mansfield and the police community, both local and afar."
PC Coetzee was nicknamed by newspapers in 2005 after making 309 arrests on Mansfield's Ladybrook Estate in a year.