Salvation Army staff suspended for turning away rape victim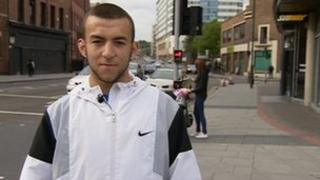 Two Salvation Army staff have been suspended after a court heard a young rape victim was turned away from a Nottingham Salvation Army premises.
Elliot Mannix, now 18, found the woman on the street after she had been attacked.
He took her to the nearby branch of the Salvation Army to try to get help, but was told by a staff member they could "only help males".
Last week Mawawe Karam, 28, was jailed for 10 years for the attack.
After raping the teenager Karam stole her mobile phone, leaving her with no way of contacting her mother, Nottingham Crown Court heard.
Mr Mannix found her at 04:45 BST on 25 March. Police said the attack happened at about 03:10 BST.
During the trial, prosecutor Dawn Pritchard told the court it would have been "absolutely clear" to a man working in the Salvation Army building that the 17-year-old rape victim was "semi-naked".
"They refused to help and turned the intercom off," said Ms Pritchard.
'Extremely concerned'
In a statement Lt Col Ian Barr, of the Salvation Army, said: "As soon as the events came to our attention, as relayed by the victim and Elliot Mannix in court, we started an investigation as we were extremely concerned.
"Two members of night staff implicated in the incident at our centre have been suspended with immediate effect pending a more thorough investigation being conducted by management.
"We would never knowingly turn away a person in need; our ethos is clear about helping the most vulnerable and marginalised people in every community."
'Ring the police'
The Salvation Army is a Christian organisation which provides social welfare. Members of the organisation are given ranks, similar to those found in the armed forces.
Recounting what happened when he took the woman to the Salvation Army, Mr Mannix said: "The man that was in reception looked at me and I said, 'Can you ring someone for this girl? Can you ring the police or a taxi or something? She just wants to go home'.
"I [said], 'Basically I've just found her, she's been raped'. He [said], 'Oh we can't help you. All we do is help males'.
"I [said], 'What do you mean? All she needs is the police or a taxi or something, or even ring her mum'."
Mr Mannix then took the teenager to nearby flats where the police attended.