Police widow says Manchester killings are 'barbaric and cruel'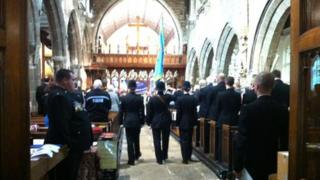 A memorial service has been held in Nottingham to remember police officers and staff who have died during their service.
Tracy Walker, whose husband PC Ged Walker was dragged to his death by a stolen taxi in 2003, was among those at the service.
She said she was "speechless" when she heard about the deaths this week of PC Nicola Hughes and PC Fiona Bone.
She said the killings were barbaric, cruel and "a tragic waste of life".
"What struck most to me was that they were somebody's daughters," she said after the service at St Peter's Church in the city centre.
"And I've got a 23 year old who was going out for a night in Leeds that night and came home after having a good time.
"Their daughters went to a place of work and they are never going to come home.
"I can put myself in their position in a small way because there's parallels of it happening to me."
It was the first time such a service has been held in Nottinghamshire, and it had been planned before the deaths of PC Hughes and PC Bone.
Candles were lit for police officers killed in the county and elsewhere in the United Kingdom.
'Sobering loss'
Nottinghamshire Police's new chief constable, Chris Eyre, said: "Most importantly the families of some of the officers and members of staff who have lost their lives were here."
He said the service was not only for police officers killed on duty, but also for police officers and staff who have died in other ways during their service, such as through cancer.
"It's just a bit sobering, isn't it, when you lose two good colleagues in the way that we have in Manchester this week," he said.
"The context becomes that much more poignant with something like that happening.
"Perhaps for politicians nationally it has reinforced just the amount of courage that's put on the line every day by police officers and police staff in the service of their communities.
"The context at the moment for policing is very challenging nationally. Police officers can feel the way that their service is being changed by government, changing around them, but that has not for one minute changed their sense of commitment to their communities."