Chilwell School faces £10,000 bill for travellers camp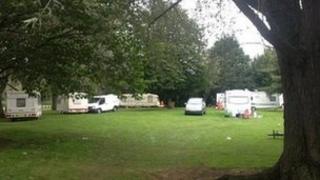 A school where travellers have set up camp on the playing field is facing £10,000 in legal and clean-up costs.
Chilwell School in Nottinghamshire is open as usual despite the arrival of the 10 caravans on Thursday, a spokesman said.
Head teacher Ian Brierly said he was "fuming" at the potential legal costs which will come from the school budget.
Traveller Jimmy Price said the group were using the field as they "had nowhere else to go".
Mr Brierly said: "It will cost us about £6,000 to put the court order together and possibly £4,000 or more in cleanup costs - and that absolutely infuriated me.
Repossesion order
"As a head teacher I've got cuts in my budget and now they are telling me that for no reason other than someone has put their vehicles on our property I am going to be £10,000 potentially out of pocket - which I think is unacceptable.
"I have no objection to the travellers' lifestyle but I am going to fight it until it gets sorted."
He said the school has issued the travellers with a notice ordering them to leave the site by Monday morning.
Mr Price said: "There is nowhere to go. If they make a nice site for us, fair enough, we will pay our rates like everybody else.
"All I want is a site - I am getting too old for this now, travelling around. I would love to settle down."
A Nottinghamshire County Council spokesman said the county provided one bespoke site for travellers near Retford, 36 miles (58km) north of Nottingham, but it was currently undergoing refurbishment.
Mr Brierly said the school was responsible for paying the legal bills because it had foundation status and the travellers would be issued with a repossession order if they remained on the field.
The travellers said they would stay on the school field until they got a legal notice ordering them to move.