Mansfield welcomes Olympians and Paralympians for homecoming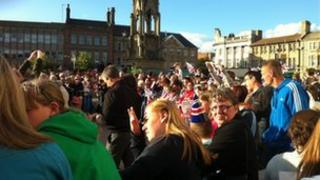 Hundreds of people have lined the streets in Mansfield to welcome back the town's Olympians and Paralympians.
The homecoming party was organised for Olympic swimmer Rebecca Adlington, who won two bronzes, badminton player Chris Adcock and three Paralympic swimmers.
Brothers Sam and Ollie Hynd and Charlotte Henshaw all won medals in the London 2012 Paralympic Games.
The athletes arrived at the town's Market Place at 18:00 BST.
Mansfield Mayor Tony Eggington said: "For each of these athletes to represent Great Britain at the Olympics and Paralympics is a massive achievement.
Olympic activities
"However, for these athletes to return with a combined total of seven medals is extraordinary."
Sam Hynd was not able to attend the celebration because he was at a charity event.
In addition to the on-stage celebrations, there were Olympic-themed activities in the town centre and a sports village where people could find out more about swimming, hockey and wheelchair basketball.
Mansfield District Council handed out 1,000 flags for fans to wave.
Adlington, 23, won bronze medals in the 800m freestyle and 400m freestyle events.
Hailed as Great Britain's most successful female swimmer, she became the country's first woman to win swimming medals at two successive Olympic Games.
Following two gold medals at the 2008 Beijing Olympics, she was made an OBE by the Queen.
Ollie Hynd, 17, won a Paralympic gold in the 200m individual medley in the S8 category and set a new European record.
Parade 'was incredible'
He also won silver in the S8 400m freestyle and a bronze medal in the S8 100m backstroke.
"The parade in London yesterday was amazing ... and it was the greatest feeling walking around the Olympic village with athletes from all around the world," he said.
His older brother Sam, 21, won a bronze medal in the S8 category of the 400m freestyle, having won a gold at Beijing in 2008.
Henshaw, 24, won a silver medal in the SB6 100m breaststroke.
She has been swimming since the age of nine and has always swum in the Mansfield area.
Speaking of her Paralympic experience, she said: "It was incredible - it is still sinking in, but I think it was the best thing that has ever happened to me."
Away from the pool, Adcock, 23, represented Team GB in the mixed doubles badminton.
He and his partner Imogen Bankier were eliminated in the first round group stage.