Dog saved from Nottingham incinerator death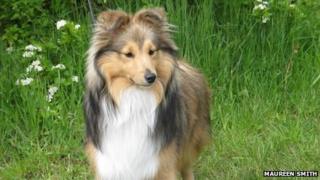 A dog has been rescued after it was spotted running around in rubbish at an incinerator in Nottingham.
Wensley had been missing for three days when a crane driver spotted him at the bottom of a 40ft (12m) rubbish hopper at Eastcroft Incinerator.
The crane driver was about to move rubbish from the hopper to be burned in the incinerator on Monday.
Firefighters later caught Wensley with a net and he was reunited with his owners, who are from Liverpool.
Firefighter Andy Lindley said: "Luckily the crane driver saw the dog prior to him sending his crane down to pick the rubbish up.
"He could potentially have picked the dog up and put it in the incinerator.
"They would have burned it and there would be nothing left."
Wensley the Shetland Sheepdog had last been seen on Friday, when he ran off from his owner Dorothy Bladon.
Firefighters 'bewildered'
Mrs Bladon had been walking the dog in a park while she was visiting her son in West Bridgford, south of Nottingham.
Mr Lindley said firefighters were "bewildered" by how Wensley came to be down the hopper.
"It's a sheer drop, so if it had fallen down I would imagine it would have been injured, but it wasn't," he said.
"It could have been in some rubbish or a dustbin that has been picked up and sent in with the rest of the rubbish collection."
Two firefighters were lowered into the hopper to rescue Wensley.
He was handed to the care of the RSPCA, who traced Wensley's owner from his microchip.
Mrs Bladon said: "He was a little smelly when we got him back, but despite everything he has been through he seems to be doing very well.
"I was absolutely delighted when I heard he had been found and I cannot quite believe what he has been through, he is so lucky to have survived."