Sneinton roof fire school reopens on schedule despite damage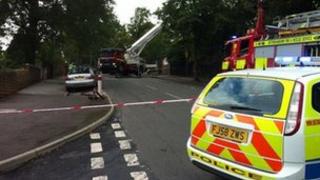 A Nottingham school damaged by fire has reopened on time despite both fire and smoke damage to its roof.
The blaze broke out on the roof of the Sneinton Church of England Primary and Nursery on Thursday.
Head teacher Rebecca Meredith said all lessons would go ahead as normal.
Six fire engines were needed to tackle the blaze which is believed to have started by accident by builders working at the school.
Mrs Meredith praised the firefighters who tackled the fire for preventing any serious damage being caused to the school on Windmill Lane.
A fire service spokesman said the blaze had spread rapidly because of windy conditions.