Campaign bids to save Trent Lane Depot in Nottingham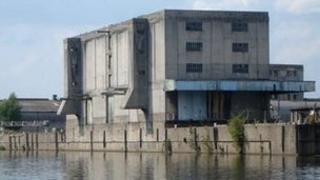 A campaign has begun to save a landmark by the River Trent in Nottingham that is due to be demolished.
The now derelict Trent Lane Depot, built between 1928 and 1931, was an inland port where freight was loaded on to barges and shipped by river to Hull.
Historian Chris Matthews has put in an application to English Heritage for the building to be listed.
The site's owner, the Homes and Communities Agency (HCA), said it had already started to clear the site.
The company said the area had been earmarked for redevelopment for more than 10 years and its housing project received planning permission by Nottingham City Council in 2007.
However, Mr Matthews said the site, also known as Trent Basin, is of special historical interest and should be saved.
He said: "It would be a grave mistake for the city to bury one of its proudest achievements, which from 1928 to its decline in 1970s was known as 'Nottingham's Highway to the Sea'."
The historian said English Heritage had told him it had put the buildings in for emergency review next week.
Kate Reid, area manager for the HCA, said the agency was working closely with the city council to develop the site to make way for more new homes for the city.