Paralympian Richard Whitehead gold postbox honour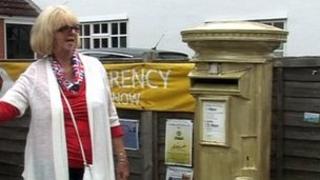 A postbox has been painted gold to celebrate the Paralympic gold medal won by Nottinghamshire athlete Richard Whitehead on Saturday.
The 36-year-old, who runs on blades, won the title in the 200m T42 final, breaking his own world record.
The postbox was painted in his home village of Lowdham.
A special stamp featuring the runner has also been issued by Royal Mail to mark his achievement.
Whitehead, who was born with no legs below the knee, is the record holder in the 200m, half-marathon and marathon for double amputees.
However, he was denied a chance to compete in the marathon in London with arm amputees in the T46 class due to International Paralympic Committee (IPC) regulations.
That meant he had to change from his usual long-distance event to the sprint.
He said after his victory on Saturday: "I'm a marathon runner that's taken well to the 200m. I came, I saw, I conquered.
"I've overcome so many things in my life. The 200m was nothing with the situations I've had growing up," he added.
"Hopefully the IPC see sport as inclusive rather than exclusive for the Rio 2016 Games."
Whitehead worked for Nottinghamshire County Council for almost 10 years as a sports co-ordinator in schools before he moved into full-time athletics in 2008.