Paralympic runner Richard Whitehead aims for 200m gold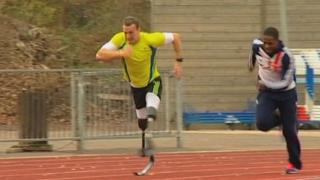 Paralympic runner Richard Whitehead does not have his heart on his sleeve, but he does have his motto tattooed on his arm.
It says: "Cometh the hour, cometh the man."
Whitehead, who was born with no legs below the knee, is the record holder in the 200m, half-marathon and marathon for double amputees.
The 35-year-old has looked for challenges and set high goals since he was a schoolboy in a small Nottinghamshire village.
"I am living proof, that with enough desire and determination, any obstacle can be overcome," he said.
His next goal is winning a gold medal in the 200m sprint at the 2012 Paralympics in London on Saturday.
He decided to compete in the 200m when he discovered, after breaking the world record for T42 athletes (double amputees with no legs below the knee) in Chicago in 2008, that the marathon was not an official event at the Paralympics.
Breaking down barriers comes as second nature to Whitehead, who was told at his junior school in Lowdham that he could not take part in sport with his schoolmates because he had artificial limbs.
His mother Geraldine Whitehead, who will be cheering him on at the Olympic Stadium, said: "They put restrictions on him - they wouldn't let him take his legs off at school."
His family looked for out-of-school activities and ended up setting up their own club for people with disabilities - which they ran for the next 20 years.
Whitehead tried every sport he could including archery, swimming, cricket, gymnastics, canoeing, track and field and sledge hockey.
He was one of the top players on the UK sledge hockey team that played in Turin at the Winter Paralympics Games in 2006.
"The other team always went for him because he was the best goal scorer," his father John said.
Whitehead worked for Nottinghamshire County Council for almost 10 years as a sports co-ordinator in schools before he moved into full-time athletics in 2008. He is now sponsored privately by high-profile firms.
The story of Canadian one-legged runner Terry Fox inspired him to take up running, he said.
Fox, who had cancer, died in 1981 after attempting to run across Canada, but raised millions of dollars for charity before he died.
"Marathon is my passion - it is an event anyone can see for free - and I want to see as many people to see my performance and hopefully inspire them to take part in sport or simply to be more positive about themselves," Whitehead said.
Before he had his artificial blades fitted at Nottingham City Hospital, he ran around the streets in Colwick in leather cups - which were strapped on his knees.
Whitehead adds: "I wasn't given a silver spoon - I wasn't given everything on a plate. I have had to earn the respect I've got now."
His mother Geraldine said: "It was hard at the beginning. But his approach to everything was always 'I can do it'."