Selling Robin Hood: City's search for Sherwood spectacle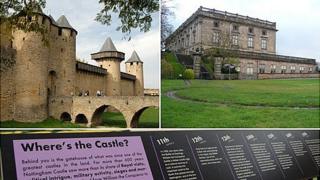 He's got a bow, wears Lincoln green and he's been the subject of Hollywood blockbusters starring Errol Flynn, Kevin Costner and Russell Crowe.
There is no denying Robin Hood is a fully fledged global icon, but he has proved to be a headache for his home town of Nottingham.
"There has been a feeling for as long as I can remember that Nottingham has underused and undersold one of its greatest assets," said Ted Cantle, who is soon to unveil new official proposals for a themed tourist attraction.
"In the past, attempts to promote Robin Hood have been regarded as flimsy and lightweight and it needs something to really hold the public's imagination."
This week's Robin Hood Festival, featuring jousting and storytelling, aims to attract 20,000 visitors but what about the other 51 weeks of the year?
Selling Robin Hood faces a major problem - he is mostly made up. He is first mentioned - in the late 14th Century - only indirectly, as already being the subject of popular ballads.
Decades of research have proved little more than Robin/Robert were very common names in medieval England.
The lack of evidence makes turning him into a tourist attraction difficult.
Even the legends are troublesome, giving a strong link between Robin and South Yorkshire, including his alleged birthplace at Loxley, home in Barnsdale and grave at Kirklees Priory (which is why Robin Hood Airport is just outside Doncaster).
On top of this, Nottinghamshire's two trump cards, Nottingham Castle and Sherwood Forest, are shadows of their former selves.
The castle - once one of the greatest in the land, perched on top of a fairytale crag - is long gone, flattened after the English Civil War.
A small stately home built on the site was burnt down during a 19th Century riot. The refurbished shell, still referred to as the Castle, contains a gallery and museum.
Sherwood Forest Nature Reserve is a 450-acre patchily wooded area near Mansfield. Compare this with the royal hunting forest which once covered an estimated 100,000 acres between Nottingham and Worksop.
Pausing between photographs with the Robin Hood statue, tourists Steve Rogers and Altaire Butler, from Vancouver, Canada, said: "The castle is a surprise, because behind the medieval walls is a 19th Century detached house.
"Robin's presence is implicit, in road names and such but it is such a draw I think they should be singing it from the lampposts.
"I wonder if you might come here and think 'is that all?'. Sherwood Forest, you go there and it's a picnic site, some trees, a small shop, it's not that memorable."
Chairman of the World Wide Robin Hood Society, Bob White, said: "Unlike a brand you have to create for a new product, the Robin Hood legend has already reached the audience.
"Everybody understands what the connections are - so that is why they are disappointed when their expectations are not met.
"It works well when there is something, an event say, to focus on but the difficult thing is the history side is so hard to prove.
"But the legend has far outlived the historic roots and Robin Hood has become a symbol of popular culture with many faces and many fronts which I think other organisations would have exploited a long time ago."
In recent years officials have wrestled with the issue.
In 2005 tourist chiefs faced derision after they dropped the outlaw's image from its publicity in favour of a wonky capital letter "N".
Ambitious plans for a new Sherwood attraction were put on hold in 2007 after missing out on £50m of lottery funding.
In 2009, the city's only dedicated attraction, the Tales of Robin Hood, closed due to falling visitor numbers.
The same year the city council set up a commission, ironically headed by the Sheriff, to brainstorm ideas. Plans for a £25m medieval village at the castle were swept away by the recession.
The commission was succeeded by the Castle Working Group, headed by Mr Cantle, which is expected to deliver its conclusions in September.
He said: "We aim to deliver education and excitement, including Robin Hood but offering a lot more, telling the story of the city and area.
"Of course having the plan is one step, then you need to get the money but we are confident we will have a very compelling proposal."