Linby new homes plan would 'see village disappear'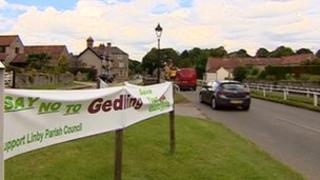 Residents in a Nottinghamshire village have spoken out against a proposal to build 1,000 homes nearby.
Gedling Borough Council has earmarked farmland close to Linby to help it meet its target of accommodating more than 7,000 new homes in the next 15 years.
Linby Parish Council said such a development would ruin the rural feel of the village and cause traffic problems.
The borough council said the new homes had to be put somewhere.
The authority is committed to allocating space for 7,250 new houses in the borough as part of national government policy.
It has proposed building 1,000 houses on Top Wighay Farm as well as a further 600 homes close to the nearby village of Papplewick.
'Nothing is decided'
Bob Brothwell, from Linby Parish Council, said: "What I'm seeing is a community that's just going to be flooded, overtaken and disappear in the end.
"We keep our village absolutely spotless and we want people to come out here to see the countryside and the beautiful village.
"This beautiful sight we see, once it's covered in concrete and asphalt, will never be a beautiful sight again."
Gedling Borough Council leader John Clarke said nothing had yet been decided.
He said: "We're carrying out government instructions to find provision and space for 7,000 plus homes, but until such time as we've got all the consultations in, we won't make a decision.
"The alternative is to let the government do it. Do people want local representation or do they want government officers to come in?"
Residents suggested the disused Gedling Colliery site would be a better choice for housing, but Mr Clarke said this was not an option unless the county council built a new access road to service it.