Nottingham riots: Perry Atherton prepares human rights case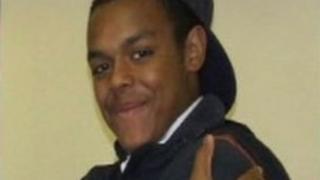 A man who was jailed following rioting in Nottingham last year is planning to challenge his conviction in the European Court of Human Rights.
If the case goes ahead it could set a precedent for other cases that followed last summer's riots.
Perry Atherton, 22, was jailed for three years in May for violent disorder, after events on 9 August.
His barrister, Usha Sood, said the conviction breached his human rights as he had been there for innocent reasons.
During his trial, Atherton said he only ran from police because others had been chased towards him.
However, the prosecution was successful in proving the defendant was part of a group that was being violent, or frightening people.
'No criminal record'
"[But] it is very likely this case will be taken to the European Court as a test case, to ask if the correct levels of proof were applied and if people should be guilty by association," Ms Sood said.
"There are a number of people whose convictions are dubious because they have really good explanations for being there.
"They have no past criminal record. And they have been convicted because there was a collective element about the offence which trapped them."
Atherton's mother Kat, said her son had never been in trouble with the police and was in the area on the night of the disturbances to get food.
"Police vans just screeched into the area, closing these groups, you know these pockets of people and individuals in on that area, she said.
"My son just started running because he had 30 or so people charging towards him."