Nottinghamshire woman loses baby after ambulance wait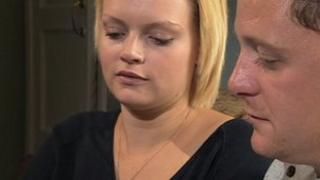 A Nottinghamshire woman is blaming a long wait for an ambulance for the death of her unborn baby.
Sarah Gould, 21, said she could see Retford ambulance station from the children's centre where she made the call, but there was no crew available.
The ambulance took 34 minutes. She was taken to hospital in Worksop where a scan confirmed the baby had died.
East Midlands Ambulance Service (EMAS) said an ambulance was sent "as soon as one became available".
Condolences sent
Phil Milligan, EMAS chief executive, said the ambulance service had sent its condolences to Ms Gould and her partner Gary Day.
The call was treated as a "green emergency" which is meant to be responded to within 20 minutes.
A paramedic was sent immediately and arrived within 15 minutes and an ambulance was sent as soon as possible and arrived within 34 minutes, an EMAS spokesman said.
He said: "It was the best we could do on the occasion".
A "red emergency", which includes cardiac arrest, has an eight-minute response target.
Ms Gould, who was 30 weeks pregnant when she lost the baby in May, said: "I dropped my daughter off at school… and then started bleeding heavily and ran to the children's centre and got seen by a midwife within about two minutes.
"But I waited there for about an hour for the ambulance to arrive. I thought: 'My baby is dying'.
"I think it is disgusting [the way I was treated that day] I definitely think something needs to be done… they need to sort it out to stop it happening to other people."
She believes her unborn daughter, named Jessica, could have survived if she had arrived earlier at hospital and had a Caesarian section.
Mr Day said: "I will never trust an ambulance ever again.
"I am disgusted as I had my car outside and I could have got her to the hospital myself in 20 minutes."
Mr Milligan said: "I am really sorry this has happened and I have given my condolences to the couple and that is meant very sincerely."
He said a paramedic was sent immediately and an ambulance was dispatched as soon as it became available.
Mr Milligan said EMAS has hired 29 more front-line staff in the past year and spent £9m on new ambulances.
"We know we haven't done well enough in the past but we are seeing signs of improvement and it is our intention to keep improving."