Woman who did not have bus fare was raped in Nottingham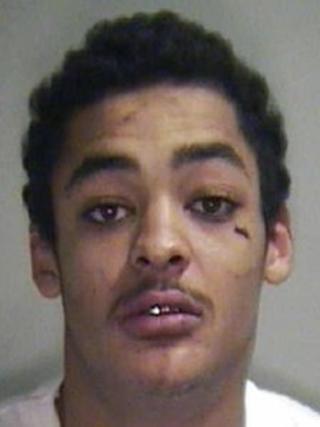 A teenager has been convicted of raping a woman who was told to get off her last bus home because she was 20p short of the fare.
Joseph Moran was still with the 22-year-old victim when police arrived at Forest Recreation Ground, Nottingham, in the early hours of 10 December.
He approached the police car and pretended to have found her injured.
Moran, 19, from Walker Street, Sneinton, will be sentenced at Nottingham Crown Court on 27 July.
Det Ch Insp Rob Griffin, who led the investigation, said Moran had used "gratuitous" violence.
"He's very dangerous, he's very violent, he's a predator, and the city will be a safer place without him on the streets," said Det Ch Insp Griffin.
"It's a rape in the city centre so by its very nature it's shocking, but when you add to that the level of violence that was used, which appears to me to be entirely gratuitous, it just makes it even more horrific."
'Nobody offered change'
Nottingham Crown Court heard the woman boarded the bus in Nottingham city centre without the full fare.
The bus driver would not let her travel and none of the passengers offered her the 20p she needed.
Det Ch Insp Griffin said: "It's difficult to speak for those people.
"Knowing what they know now they would perhaps wish that they had given her 20p."
She was walking to be picked up by her mother when she was raped.
Det Ch Insp Griffin said: "One might try and blame the bus driver in these circumstances but I think we've got to remember that had she got on that bus that night, with the mood that Joseph Moran had been in, I think he would have attacked somebody else.
"So there's only one person to blame really and that's Joseph Moran."
The victim's mother's car was pulled over by police near the scene of the rape.
"The circumstances in which the police turned up was an utter coincidence, the victim's mother having been pulled over by them," said Det Ch Insp Griffin.
"I can only imagine how he must have felt when he saw the blue lights flashing only yards from where he was and I suppose he had to make a choice."
Moran approached the police car and pretended to have found the woman.
He was found guilty of rape and wounding with intent.