Diamond Jubilee: Artist paints Queen using royal soil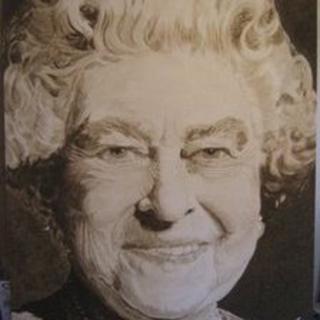 An artist from Nottinghamshire has celebrated the Diamond Jubilee - by painting the Queen with soil.
Adrian Lloyd, from Awsworth, mixes earth, water and a secret binding agent to create organic paint for his art.
Now he has unveiled two new portraits of the Queen, created using soil from some of her royal residences.
The paintings, which have gone on display in two areas of Derbyshire, show her as a young child and as she looks now.
Mr Lloyd said he was given the soil by head gardeners at Buckingham Palace, Balmoral, Sandringham, Windsor Castle, Holyroodhouse and Glamis Castle.
'Royal approval'
He also collected earth from Bruton Street in London, close to where the Queen was born.
He said: "My uncle cheekily wrote to the head gardeners at all the royal households to suggest I paint this portrait.
"It then must have filtered through to the Queen somehow, as a few weeks later an official letter of approval was sent back to him from Her Majesty, also expressing how interested she was to learn of my technique.
"The house where she was born was destroyed during the Blitz in World War II. A single lone tree stands just a few yards from where it once stood.
"The earth I collected was full of brick rubble, mortar and debris - no doubt a legacy from the devastation of the area many years ago."
Mr Lloyd said he always tried to use soil from places associated with the people in his portraits.
His paintings of the Queen, which measure 4ft x 3ft (1.2m x 0.9m), have also been embellished using tiny raw natural diamonds
They are currently being displayed in Long Eaton and Ilkeston.