Nottingham detective Trevor Gray found guilty of rape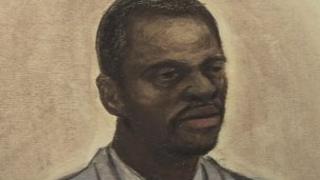 A Nottinghamshire Police detective has been convicted of raping a woman in her home.
Det Sgt Trevor Gray, 47, of Watnall, near Nottingham, was found guilty of attacking a 43-year-old woman on 24 July 2011 while off duty.
Gray, of Watnall, had denied three charges of rape, attempted rape and sexual assault against the woman during the trial at Derby Crown Court.
He had been suspended from work pending the outcome of the trial.
The jury took just two hours to return its guilty verdict.
During the trial, the victim told the court that Mr Gray had broken the chain on the door of her house and raped her after a night out in Nottingham.
'Horrified' recollection
The woman said she could not remember leaving the bar they had been at or getting into the taxi after three white wine and lemonades and a "strong" vodka and coke bought for her by Mr Gray.
She said the next thing she remembered from the night was getting out of a taxi outside her house in Nottingham and being shocked to see Mr Gray get out of it too.
The woman sobbed as she told the court her next recollection was of him being naked in her bed on top of her and raping her.
She said she was woken up the next morning by her child shouting for her and was "horrified" to find Mr Gray still in bed next to her.
When she went to let him out she noticed the security chain on the door was broken.
'Trained police mode'
But Gray, who had denied raping the woman, said she invited him to stay after he went into her home and consented to sex.
He told the court that when he could not get a taxi, he texted her but she did not reply and returned to her house where the door was ajar and the light on.
Concerned about the woman's safety, he told the court: "I fell back into my mode as a trained police officer and I decided I would enter to save a life effectively."
He said he found the woman sitting up in bed and she invited him to stay, and he left on good terms in the morning.
Judge John Wait, remanded Gray into custody to until sentencing on Thursday.