Men jailed for Mansfield nightclub killing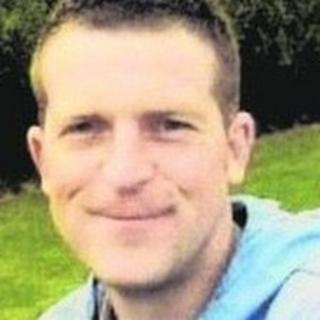 Two men have been jailed for killing a father who made a "xenophobic" comment towards them outside a nightclub in Mansfield, Nottinghamshire.
Jonathan Turner, 27, from Forest Town, was attacked outside the Vibe Club in the early hours of 7 May 2011.
Vjaceslavs Solovjovs was given a life sentence with a minimum term of 17 years after being convicted of murdering Mr Turner.
Bagdas Kilic was found guilty of manslaughter and jailed for 10 years.
Nottingham Crown Court heard Mr Turner was attacked after shouting "Oi, Poland is that way," at the men.
Solovjovs, who is Latvian, and Kilic, who is Kurdish, then punched and kicked Mr Turner.
The judge, Mr Justice Haddon-Cave, described the attack as "cowardly and contemptible".
"It was clear from the very first punch that Jonathan Turner was no match for the two of you but still you continued," he said.
'Venomous and mindless'
He added that it was "typical of the viciousness and stupidity played out all too often outside pubs and clubs as a result of 24-hour drinking".
Solovjovs, 23, of Terrace Road in Mansfield, was also found guilty of attempting to pervert the course of justice.
Kilic, 23, of Westfield Lane in Mansfield, was cleared of murder but found guilty of manslaughter after the jury accepted he had lost control.
A third man, Andrej Novakov, 20, of Kipling Street in Mansfield, was cleared of murder but found guilty of violent disorder. He was sentenced to three years in custody.
All of the men had been drinking before the confrontation took place.
The court heard that Mr Turner swore at the men and shouted: "Why don't you all [go] back to your own country?"
Witnesses described him kneeling on the floor saying, "stop, no, enough" during the attack, which lasted just 36 seconds.
The main artery feeding his brain was torn and he died in hospital the following day.
The judge said Mr Turner's comment was "stupid, insulting, xenophobic and offensive" but in no way justified the "venomous and mindless" attack which followed.
"There is no evidence that Jonathan Turner ever, at any point, posed a threat to Vjaceslavs Solovjovs or Bagdas Kilic," he said.
In a statement, Mr Turner's parents Russell and Margaret and sister Rachel stressed he was not racist.
"Jonathan made a spur-of-the-moment comment, but throughout the trial we felt he was made out to be a racist and at one point even called a bigot.
"This is totally untrue. Jonathan was never a racist in any way."