Neil Greatrex: Fall of man who led strike split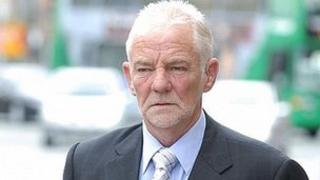 Neil Greatrex, the former president of the Union of Democratic Mineworkers (UDM), has been jailed for four years for stealing from a miners' charity.
The 61-year-old, who retired some years ago, went from a traditional Nottinghamshire miner to one of the most divisive figures in the industry during the 1984-1985 strike.
With his father, grandfather and three older brothers all working at Bentinck mine, his early career path was almost inevitable.
One of his first jobs was "ganging"- working with teams of pit ponies.
He spent 20 years underground and said the experience had stayed with him.
NUM tactics
"I do miss it," he told the BBC in an interview in 2008. "You never find comradeship like you do in mining."
Before the strike which changed his life, Greatrex played a less high-profile role in the disputes of 1972 and 1974 when he helped feed pickets by poaching rabbits and pheasants from the surrounding fields.
In March 1984, the National Union of Mineworkers (NUM), called for national action to oppose a planned pit closure programme.
The bitter dispute continued for nearly a year and prompted the creation of the Nottinghamshire-based UDM, which rejected the tactics of the NUM.
The split was credited by some as fatally damaging the striking miners' cause.
Willie McGranaghan, former miner and now manager of the National Coal Mining Museum, said: "The Nottinghamshire field kept producing coal, which helped keep the stocks up and the lights on.
"And you had UDM and NUM people in the same pit, sometimes the same family. It caused a lot of tension and it went on for years, until today even."
'Mining hero'
Greatrex was a spokesman for the union and later became its president.
Reflecting on the strike, he said: "I think people always regret there was a split. Everybody had been proud to be an NUM member.
"But (Arthur Scargill - NUM President) took on a fight that he couldn't possibly win.
"The trade union movement has never recovered."
The significance of the UDM - and Greatrex's role in particular - was noted by his defence counsel, Christopher Sallon QC, when asking for leniency from the judge.
He said: "Many people, some of whom describe how they felt let down by what has happened, regarded him (Greatrex) as a hero in the political context of the history of the mining industry.
"The relevance of that is when a hero falls from grace and where a loss of reputation is really cataclysmic... that adds hugely to the punishment.
"His fall has been so great and because of the huge amount of hostility that he is likely to attract in prison - certainly in certain areas of the country - we ask you to consider the shame that he feels."