Tracing the roots of Nottingham cycle brand Raleigh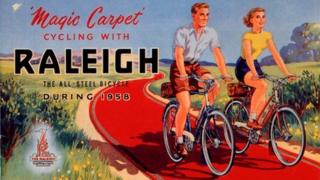 As iconic Nottingham cycle brand Raleigh is taken over by a Dutch manufacturer, we take a look at the company's history.
While Raleigh has chosen 2012 to celebrate its official 125th anniversary, the roots of the company go back even further.
The original firm, which went on to become Raleigh, was founded by three men who have largely been forgotten - Richard Woodhead, William Ellis, and a French citizen called Paul Angois.
In 1886 they set up premises in Nottingham which fronted Raleigh Street and Russell Street.
An advertisement, discovered by historian and author Tony Hadland, shows the brand name Raleigh was used for their cycles, with the firm itself named as Woodhead, Angois & Ellis.
In 1887 one of these bicycles was bought in London by a businessman called Frank Bowden, who Raleigh describes as its founder.
In a written account, Mr Bowden recounted visiting the firm while passing through Nottingham in autumn 1888.
He was impressed and bought out William Ellis's share. Raleigh Cycle Company then first appeared as a registered company name in January 1889.
"It [the company] was really quite unstable in the first decade or so," said Mr Hadland, who looked at original documents kept at Nottinghamshire Archives while researching a book about Raleigh.
The original founders sold their shares and resigned in 1894.
Under Mr Bowden's leadership, the company exported bikes around the world and the Nottingham factory in Faraday Road became the world's largest maker of bicycles.
At it height it made more than 4.2m bicycles a year and employed more than 12,000 people.
Inspiration for film
Arguably the most famous former Raleigh employee was Alan Sillitoe, author of Saturday Night and Sunday Morning.
The book's Arthur Seaton works in a bicycle factory and part of the 1960 film was shot at Raleigh.
The company merged with Tube Investments - another large British bicycle manufacturer - in 1960 to become TI-Raleigh.
But by now, car ownership had become more widespread which meant there was less of a market for commuter bicycles.
Raleigh started making more bicycles aimed at the leisure market, and had particular success with the Chopper in the 1970s.
The company's fame grew through its racing team, TI-Raleigh, which won the Tour de France in 1980.
By 1999 steel frames manufactured in Nottingham accounted for only half of all frames sold by Raleigh that year.
The company was now owned by American investors after changing hands a number of times.
At the end of the year, Raleigh revealed it had auctioned off the equipment it used to make bicycle frames in Nottingham but it continued to assemble bikes in using imported frames and components.
Former employee Alan Sillitoe said at the time: "Raleigh is a kind of soul of Nottingham. I'm very sad about it."
Legal battle
Planning permission was granted for a new Raleigh factory to be built on an allotment site in the city, but some of the gardeners refused to move.
The legal battle went to London's High Court in February 2002, and the following month Raleigh announced it would cease assembling cycles in the UK.
The company denied the legal battle was to blame, and in 2003 moved Raleigh staff to new headquarters in Eastwood, Nottinghamshire.
About 100 sales, marketing and design staff currently work at the Eastwood headquarters for Raleigh UK, one of many companies within Raleigh Cycle Ltd.
Many of its bikes are made in the Far East, and the brand is also licensed to companies around the world.
The deal with Dutch manufacturer Accell is expected to go through at the end of May.
"It's good in a way because the company buying them are known to be well-committed to cycling," said Mr Hadland.
"It's a good home for Raleigh and I think Raleigh will continue on another journey into its history."