Nottingham railway station disrupted after engine fire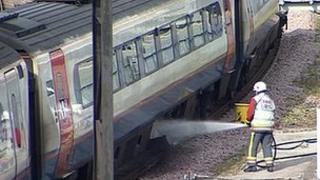 A fire forced the evacuation of Nottingham railway station.
Emergency services were called to a train engine fire on platform 3 at 08:44 BST.
The station reopened shortly after, but platforms 1, 2 and 3 remained out of use while the affected train was being moved.
East Midlands Trains said there was likely to be some continuing disruption to services and advised passengers to check departure times.
Martin Bills, station manager for Nottinghamshire Fire and Rescue, said: "The train has come into the station and the station staff and the driver have noticed there is smoke coming from under the train.
"Basically it was a build up of day-to-day grime underneath which has overheated due to the movement of wheels."
There are no reports of any injuries.