Mishaps mar Marion Smith's 1,100-mile cross-Britain journey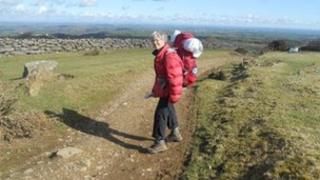 A 69-year-old Nottinghamshire woman who is walking the length of Great Britain has run into snowstorms, a muddy bog and a street sign during the first few weeks of her journey.
Marion Smith, of Woodborough, walked away with a bloody face after falling down when she stepped on her bootlaces near Bath on the Cotswold Way.
Earlier she almost broke her wrist after colliding with a street sign near Okehampton.
Mrs Smith, who is raising money for cancer research and the air ambulance in memory of her husband, admitted she had had "a few mishaps" along the way.
Painkillers and pints
So far she has reached Barnoldswick in Lancashire - having walked a total of about 520 miles (837km) of her 1,120-mile (1,800km) journey from Land's End to John O'Groats - which she took on to celebrate her upcoming 70th birthday.
Speaking of the accident near Okehampton, she said: "Walking with my head down, I inadvertently collided with a road sign.
"I thought I had broken my wrist and I couldn't get up for a while because of the weight on my back.
"Covered in mud and with a twinge in my hip, I carried on for about a mile when I realised I'd lost my glasses. But I fortunately found them intact actually in the middle of the road."
She also lost a boot in a bog near Taw Green in Dartmoor but managed to escape and rescued it later with help of a local farmer.
"Eventually after being pressure washed and fed cake (blow the diet) I was able to continue," she said in her blog.
Mrs Smith, who had already cycled from Land's End to John O'Groats three years ago, said she has kept going thanks to "painkillers and pints".
Her bad luck did not stop with the bloody face and sprained wrist as she also left her mobile phone behind at a youth hostel and lost her handheld satellite navigation device behind a bin in a toilet.
Her glasses have posed many problems as she has broken them three times and struggled to get them fixed or replaced.
Police search
Kinder Scout, a hill in Derbyshire's Peak District, was one location where Mrs Smith encountered snow and freezing conditions.
"The wind was blowing so much I couldn't get my cape on. I was also worried about being blown off the tiny slippery path on the edge of such a steep drop. It was a horrible thing to do and I arrived at the youth hostel shivering and shaking."
Mrs Smith, who is writing a blog about her experiences, said she also almost sparked a police search.
She stashed her rucksack at a cottage on a farm because she had mislaid a map - and retraced her steps for several miles.
But on her return she was told the owner of the cottage had called the police after finding the rucksack.
Mrs Smith said she was determined to carry on despite her setbacks and hopes to finish what she calls "LeJog" by June.
"I can't see very well until I replace my glasses but I am holding up pretty well. In fact I am as fresh as a daisy," she said.