Nottingham railway station tram bridge work begins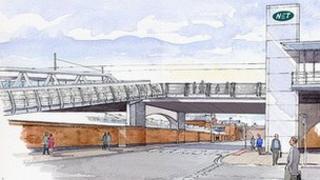 A project has begun to build three connected bridges, one with a tram stop, above Nottingham railway station.
The work is part of a £600m extension to the city's tram network and redevelopment of the station.
The line currently stops across the road from the station, with a footbridge giving access to platforms.
One bridge will take trams across the road, a second will support a new stop over the railway station and the third will connect to the new tram line.
Lines will be built to Clifton via Wilford and Chilwell via Beeston during phase two of the tram network's expansion.
20 million journeys
During the first stage of work at the station, a pedestal will be built to support the bridge over Station Street.
Bridges for the new tram stop and to continue the line to Crocus Street in The Meadows will be built later.
The entire station project is due to be completed by late 2013.
Officials said some disruption, such as Station Street becoming one way, was inevitable but it would be kept to a minimum.
Work on the station itself will not begin until after the Olympics so those travelling to the Games will not be affected.
Nottingham City Council estimates the new tramlines will double tram usage numbers, to an estimated 20 million journeys each year.