Who are Nottingham's Occupy protesters?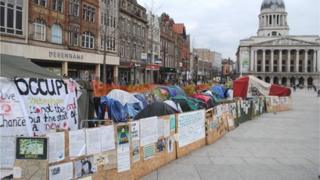 Attempts to evict Nottingham's Occupy protesters have stalled again after a judge ruled that the case should be heard at trial.
The cluster of tents sprang up in October last year.
While many similar encampments around the country have since disbanded, the Old Market Square campaigners have stayed put for almost six months.
Nottingham City Council said it respected the group's right to protest, but that it had no other option than to take legal action after "negotiations to encourage them to move on" failed.
How many of the tents are inhabited and who are the protesters?
Juggling campaigning with coursework
Molly, 21, is in her third and final year of a youth studies degree at Nottingham Trent University and is originally from the city.
Molly has not slept at the camp because of a medical condition, but said she had visited most days since getting involved in December, staying for anywhere between six and 12 hours.
She said she had had to limit socialising to fit everything in.
"Generally I'm doing my coursework and then I come here," she said. "I've stayed here until four o'clock in the morning. I tend to go home and sleep for eternity."
Molly was appointed "well-being co-ordinator" to ensure the safety of other protesters.
Nottingham City Council alleged in court that some of the campers used flower beds as toilets, but Molly said they would never have done this and had maintained good hygiene standards.
She said the public reaction to the camp had mostly been positive.
"Some say 'get a job' or 'get a house' but I believe that's about not being educated about the cause.
"The agenda is basically for equality. It's not our fault that the banking system went down and instead of them paying it back we are paying it back."
Converted to the cause
Daniel Mierkalns, 25, from Mapperley, is a self-employed builder, which has allowed him to be flexible about the time he spends at the camp.
He estimated that he has slept there 23 or 24 times, mostly at weekends, and said he visited regularly during the day when he was not working.
Mr Mierkalns has also supplied reclaimed furniture for the protesters.
He said he had got involved with the camp in January after walking past wearing a "really smart suit".
"I said 'this is really interesting. Can I come and listen?'
"They thought I was a spy. They were really sceptical, but it turned out I was just an average person."
He said the camp had welcomed him into their family.
Homeless and jobless campers are 'exception'
Jaz Brogan, 32, grew up in South Africa but has spent most of his life in Nottingham.
He used to work as a graphic designer and has been living at the Occupy camp permanently for the past three weeks.
Unlike many of the protesters he does not have a home or job.
Until August, he had been living in a self-built hut in a forest in the Wye Valley, in south Wales.
"I moved here because I know a few people on the site," he said. "I'm all for this movement so I'm happy to be helping them out as much as I can.
Mr Brogan said the Occupy movement had encouraged public debate. He said people had mostly supported the camp - even police officers.
Seeing it through until the end
Carl Freeman, 43, from New Basford, was among the group which established the camp on 15 October.
By his estimate, he has spent 150 days at the camp and slept there for 130 nights.
"I don't stay all the time. At the beginning I did 30 days on the trot but that took a heavy toll," said Mr Freeman, who used to work as a gym instructor and a leisure club supervisor.
"I ended up with a lung and skin infection."
Mr Freeman said he had spent much of his time working on the legal case and being an official representative for the camp.
He decided to join the Occupy movement partly because he has had difficulty finding a job.
"You have ridiculous numbers of people applying for the same job and people working long hours and still not making ends meet," he said.
He said that if ordered to move, the protesters would set up a camp somewhere else in Nottingham.